User Group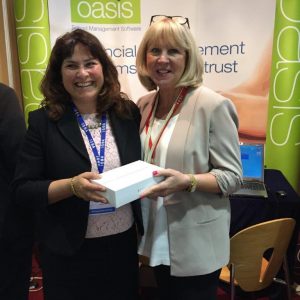 ISBA 2015 Prize Draw – Samsung Galaxy Tab S 8.4″ won by Sharon Daly, bursar of St Augustine's Priory, presented by Sally Wadey, Oasis User Group training secretary.
Oasis believes a thriving User Group, where users are easily able to communicate with each other and provide ideas and solutions, is essential for ensuring that the Oasis system continues to evolve according to the needs and wishes of the User Group.
User Group sections are available for the individual modules and trainings and  meetings are organised on a regular basis.