User Group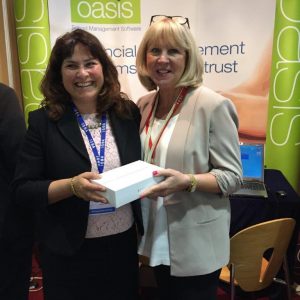 ISBA 2015 Prize Draw – Samsung Galaxy Tab S 8.4″ won by Sharon Daly, bursar of St Augustine's Priory, presented by Sally Wadey, Oasis User Group training secretary.
The enhancement, future direction and development of OASIS and the charging regime are all controlled by the OASIS User Group (OUG).  As a result of controlled growth and success, it was necessary to incorporate OUG as a company limited by guarantee.  The Executive Committee is elected annually at the Annual General Meeting, to which all schools within the User Group are entitled to attend and vote.  The Executive Committee also act as the (unpaid) Directors of the company.
Day-to-day business is conducted by the Executive Committee. The main priorities are developing and enhancing the system, the effective training of users and providing an integral support system.  The user group provides regular free training courses on topics of current interest identified by you, the user.
The software has undergone many changes with the emphasis always being on flexibility, ease of use and 'openness' and making full use of up-to-date technology.  Having designed and written all the modules, the OASIS staff are able to provide fast and effective support whenever needed.
Please feel free to contact any of the committee members below if you wish to discuss Oasis software.
Executive Committee – Contact Details
Secretary –   Daniel Emkes,   Finance and Systems Director at Harrow School         finbursar@harrowschool.org.uk
Treasurer – Malcolm Browning ( former bursar of Walthamstow Hall  )                      hilamalcolm.browning@gmail.com
Julien Jensen-Humphreys    (former bursar Reigate Grammar School)                    julien.jh@btinternet.com
Martyn Strickett, King William (IOM)                                                                          martyn.strickett@kwc.sch.im
Training Secretary – Sally Wadey                                                                              saw@reigategrammar.org